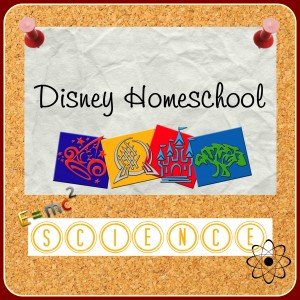 We used Disney's Imagineering DVDs from our library to get ready for our trip. The 11-video series covers a ton of information in a fun, interactive way. It was funny listening to the kids as we went through the park, "Remember when Asa (the DVD host) did that?"
The series includes:
Energy
Fluids
Newton's 3 Laws of Motion
Gravity
Friction
Magnetism
Electricity
Levers & Pulleys
Trajectory
Design & Models
Animal Adaptations: Communication
Each DVD includes instructions for a try-it-yourself, interactive activity to reinforce the science principles in the video!
I highly recommend incorporating this series into your pre-trip homeschooling!
Check out the official trailer for the series:

There are a few more excerpt videos Disney has posted online:

I found the entire series available at my local library. The videos are available directly from Disney's education store for about $20 each. Amazon carries the series new just slightly cheaper with free shipping for Prime members (if you're not a Prime member, click here for a 30-day trial) and some videos are available used starting around $11!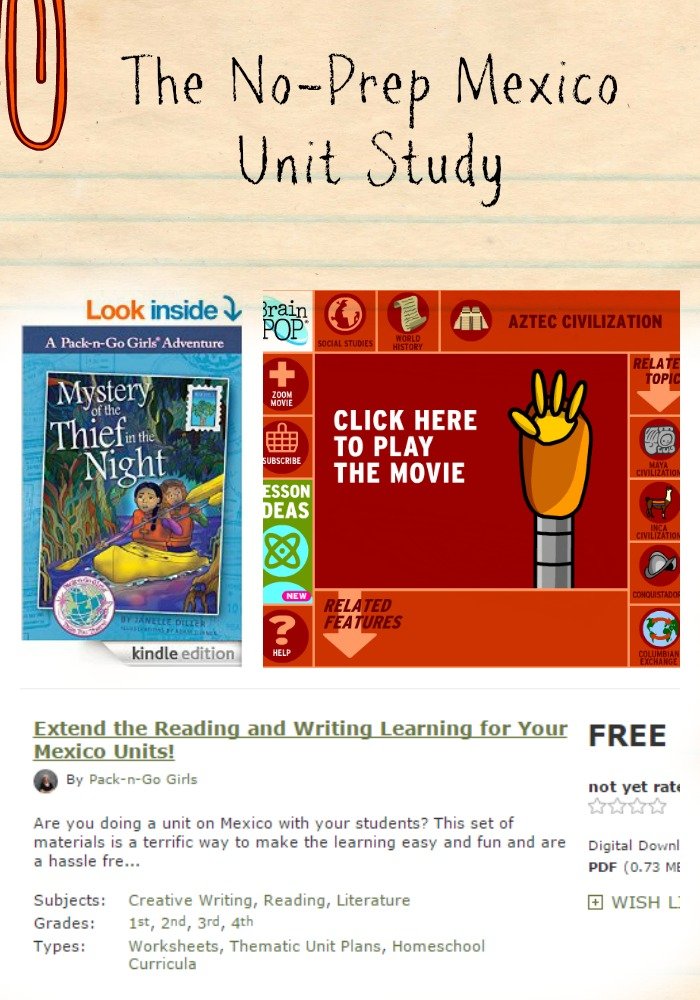 Sometimes things just converge together and make planning a week's worth of school nearly impossible. For me, that's usually the same week I need the kids occupied so I can concentrate on other work deadlines. Last week was one of those weeks. While searching for something else I came across the Pack-N-Go Girls Mystery series and the related "extending the learning" packs on TeachersPayTeachers.com. With limited time and no plan in place I bought the Kindle version of the first Mexican book – Mystery of the Thief in the Night (Pack-n-Go Girls – Mexico Book 1)
 – and downloaded the free packs from TPT. I also added in some ancient civilizations videos & worksheets from BrainPop.com (Maya, Aztec, Inca, Columbian Exchange, Conquistadors) and our regular math and spelling schedule.
I don't think this week's lesson will win and awards but it was exactly what we needed to get through the week and not fall behind. With additional books set in Mexico, Austria and Thailand and more free related learning packs on TPT if I ever need another no-prep week I'm glad to know they are there.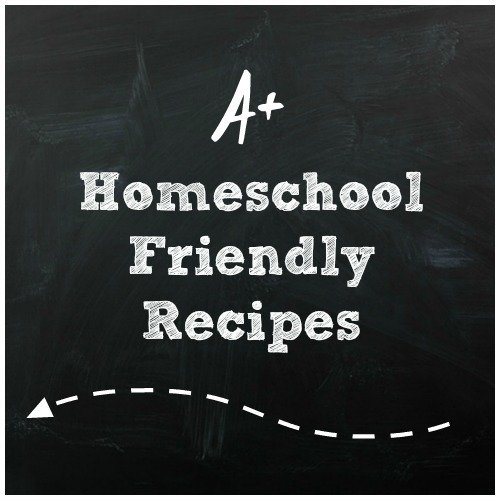 Carne picada is a budget friendly cut of beef, thinly sliced and a bit courser than ground beef. Being a gluten-free family, we get much in the way of iron-fortified breads or cereals so I've been trying to include beef in our diet at least once a week, along with other natural food sources. Carne Picada tacos are cheap, super easy, and very filling.
1 lb carne picada (more or less)
1 can diced tomato & chiles (I use the Rotel cilantro & lime version)
1 can black beans
Place the meat in the crock pot. Pour tomatoes over meat and cook thoroughly, stirring meat after about 1 hour and adding drained black beans about 1 hour before eating.
Serve on corn tortillas.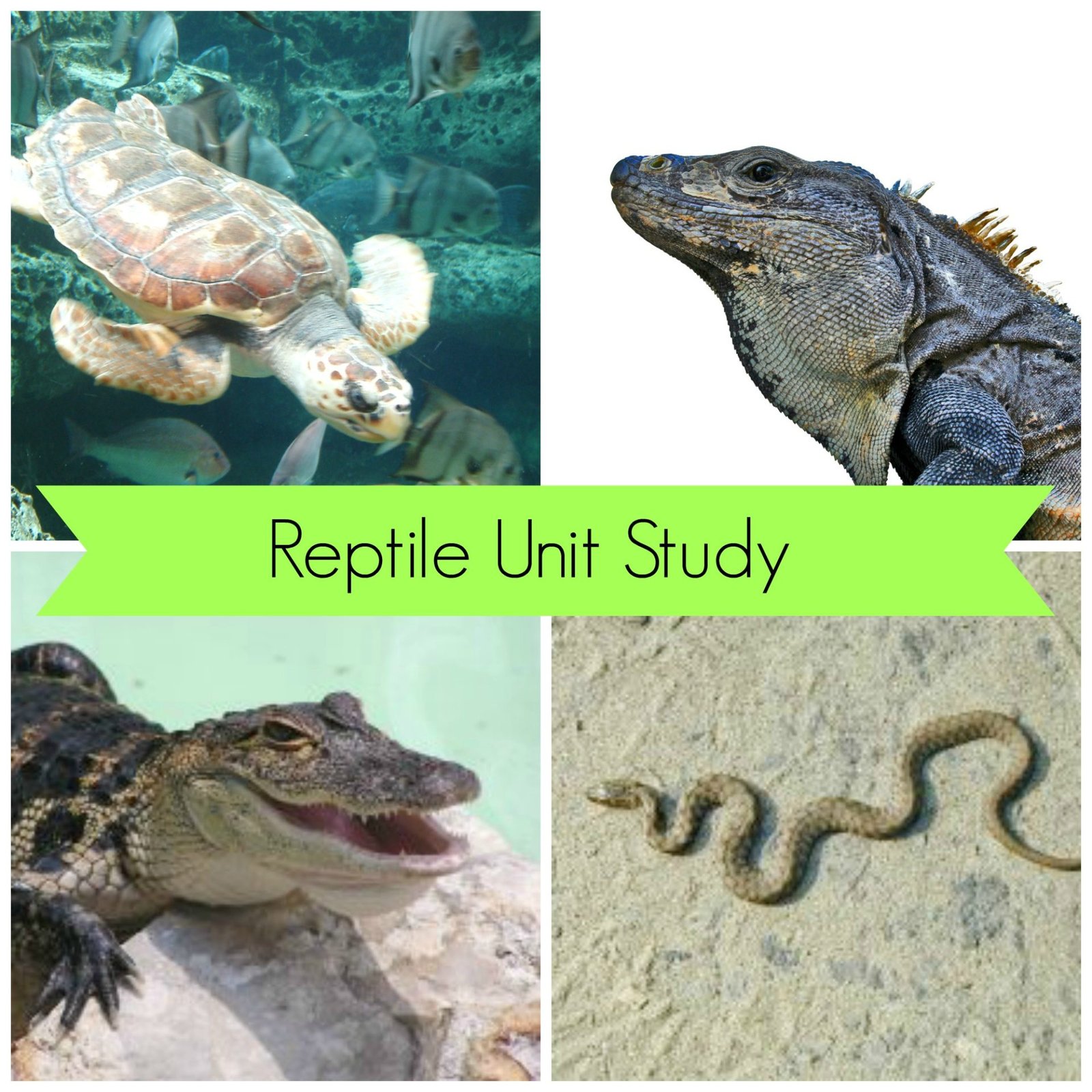 My kids are HUGE fans of Wild Kratts. I'm pretty sure they have seen every episode, most more than once. When I heard there would be four new episodes all about reptiles this week it seemed perfect for a reptile unit study. I had to work Monday and a bit on Tuesday, a public speaking assignment to prepare and present on Thursday, and a gluten free lasagna to cook and deliver for a volunteer lunch on Friday. It was a bit of a busy week but we managed to get a good deal of fun and learning done.
Monday – Work day for me.  No school / free reading.
Tuesday – Partial work day.
*Introduction of topic – Reptile KWL
Wild Kratts Episode "Rattlesnake Crystal"
Rattlesnake Wrestlers reading comprehension passage
Draw a rattlesnake using a shape pattern on the skin
Library to pick up books
Wednesday

**"What is a reptile?" – non fiction reading & comprehension passage – updated KWL sheets
Snake trail addition and subtraction math game – Mark alternating spaces with + and – signs, shuffle a stack of playing cards with face cards removed. Each child receives a die, dry erase board and marker, and game marker. Student rolls the die and moves the appropriate number of spaces. They draw 2 cards from the pile and write the problem & solution on their board using the operation they landed on. Continue until board is full. Fast finishers can go back and reverse the operation for extra practice.

Wild Kratts episode  "Gila Monster Under My House"
Spike the Mixed Up Monster by Susan Hood (fiction book – Spanish vocab)
Spike activities (coloring & sing along)
Thursday
Reptile ABC order worksheet
Reptile Classification worksheet
Compound words worksheet  (like rattlesnake)
Expanded form of numbers – Video  –  worksheet
Wild Kratts episodes "Tortuga Tune-up" and "Road Runner"
Updated KWLs
Friday
**"Alligator" and "Crocodile"  – non fiction reading & comprehension passages
**Alligator and Crocodile Venn diagram (compare contrast)
Wild Kratts episode "Mom of a Croc"
Reptile exhibit at Knoxville Zoo
Zoo journals – sketches of snakes at zoo & writing prompt "If I worked at the zoo…"

*KWL – Graphic organizer for many subjects "Know, Want to know, Learned". Useful for establishing prior knowledge, eliciting questions to be answered during the week, and summarizing information learned during the unit. Example
** Worksheets taken from The Complete Book of Animals, Grades 1 – 3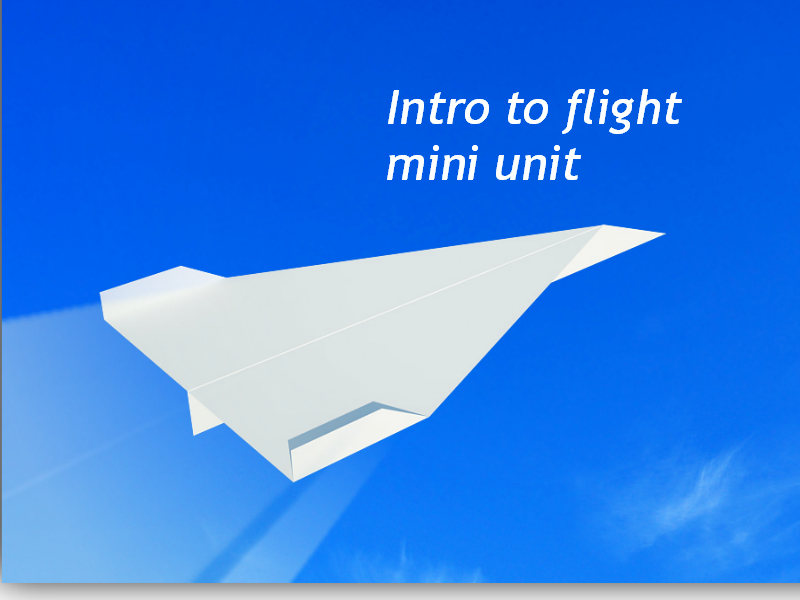 Quick read and illustration about the forces involved in flight and airplane wings – http://www.sciencekidsathome.com/science_topics/flight.html
Nova Wright Brothers Video Wright Brothers' Flying Machine

Magic School Bus Takes Flight (found streaming online)

A couple of math worksheets to warm up our first full week back at "school"
http://www.greatschools.org/worksheets-activities/5363-addition-grid.gs
http://www.k12mathworksheets.com/worksheet/subtraction-number-line-airplane/
Reading comprehension passage and quiz (3rd grade level)
http://havefunteaching.com/worksheets/reading-worksheets/reading-comprehension-worksheets/third-grade-reading-comprehension-worksheets/
Adapted the "Airplanes of the Future" lesson plan for us
http://www.nps.gov/daav/forteachers/lessonplansandteacherguides.htm
Library books used in this unit

The Wright Brothers by Andrew Santella
The Wright Brothers: Heroes of Flight by Carin T Ford (Famous Inventors series)
Stealing Air by Trent Reedy
You Wouldn't Want to be on the First Flying Machine by Ian Graham
You Can Draw Planes
How Airplanes Work by Paul Ohmann
The Wright Brothers biographies were used for reading/comprehension of non-fiction text. Students were also asked to pick 5 events from the Wright Brothers lives and create a timeline from those events.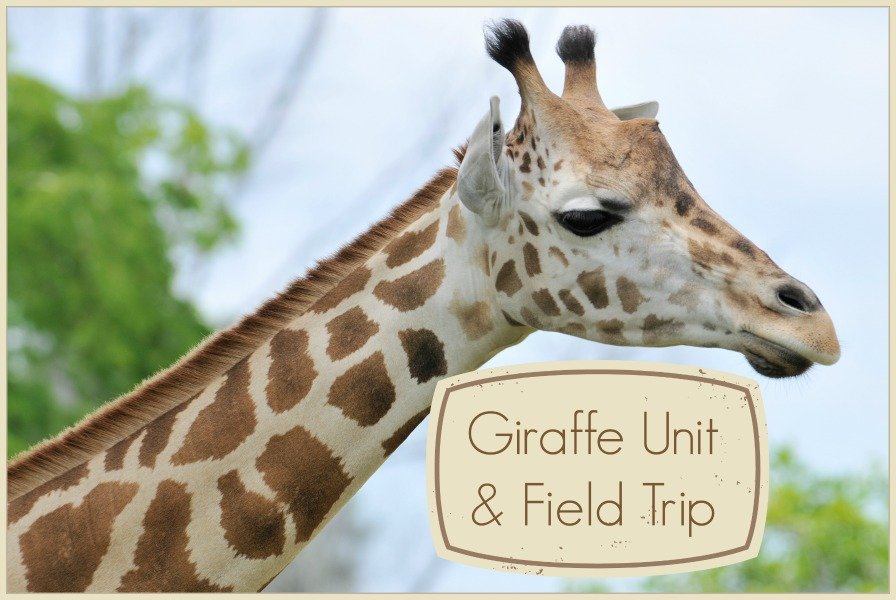 It's the beginning of August (in a few more hours) and we're back from our crazy Florida vacation so it's time to start getting back to a somewhat regular school-ish schedule.
Our local zoo has just completed a new giraffe encounter area and zoo members (us!) can feed a giraffe for free through Sunday so I'm putting together a mini unit for Thursday, zoo visit on Friday, and art project for Monday.
We'll research some facts about giraffes using this article and these websites:
http://www.secondgradesafari.org/giraffes.html, http://kids.nationalgeographic.com/kids/animals/creaturefeature/giraffe/,
We'll use the websites above and internet searches to research the foldables on pages 8 (Baby Giraffe Facts) and 17 (other giraffe facts) of the lapbook at http://www.homeschoolshare.com/giraffes.php.
A neat video of a baby giraffe standing for the first time – http://safeshare.tv/w/XehacqJPTh.
I love the chit-chat page shared on this blog – http://mrsjumpsclass.blogspot.com/2012/03/zoo-unit-day-1-giraffes.html.
For fun a few giraffe games here – http://www.learninggamesforkids.com/mammal-games-videos/giraffe-games-videos.html.
And a giraffe drawing lesson – free from TPT – http://www.teacherspayteachers.com/Product/Kindergarten-Giraffe-drawing-lesson-723025. Says for kindergarten but I think we'll enjoy it.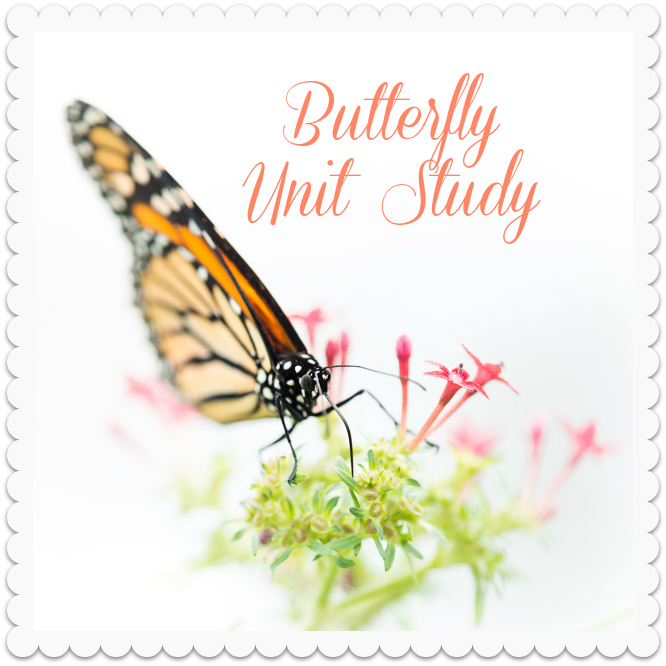 Spring is in full bloom here – just ask my allergies – so it is a perfect time to do a unit on butterflies! Our local zoo has a beautiful butterfly garden exhibit that should be open and make a great addition to our unit.
Monday
Tuesday
Wednesday
Thursday
Extras to fit in / add
Book List (with call number – non-fiction – and link to books on Amazon.com if available):
After our cave adventure we'll take the rest of the week (Wednesday – Friday) for a mini-unit on waterfalls (student-requested topic).
How Waterfalls Work from HowStuffWorks.com.
After reading and discussing the article together we'll read and color this printout (page 1).
Victoria Falls
A little video of Victoria Falls (Amazon Prime video). Visualizing the scale of Victoria Falls and some gorgeous photos via PBS.org.
Niagara Falls
A couple of fiction books from the library to go along with our unit.

We'll use the Power of Speech worksheet from this TPT freebie to discuss why authors use certain dialogue for their characters and what character traits we can infer from their speech.
We'll take a virtual field trip to Niagara Falls and a few local waterfalls via Google Earth.
I found this story paper with a picture of Niagara Falls that we'll use to write about our virtual field trip.
Hydroelectricity
Another great library book – How Does a Waterfall become Electricity? – will be the basis for our science portion of this unit. We'll use a portion of the non-fiction text to identify the main idea and supporting details of a passage/chapter.
This YouTube video explains how a hydroelectric power plant works clearly enough for my 1st graders to get a good overview of the process.
 UPDATE:
Norris Dam State Park  is about 30 minutes north of us. As we were finishing up our lesson on Thursday the news reported that the Dam would be spilling water to lower lake levels. It was such a perfect fit that we took a picnic lunch and headed out the next morning. We stopped at three different observation points and took pictures and got a real feel of the power of the water. The kids saw the size of the powerhouse and the transformers, just like we had read about! While there were quite a few spectators at the dam viewing sites, our picnic area was empty and beautiful! We also visited the Old Grist Mill, watching how the water moved the wheel and then going inside to see the gears moving. The Lenoir Museum was also interesting and educational. The kids enjoyed seeing, touching and even using some the of the tools used "a long, long time ago", as the kids put it. Here are some pictures from our trip!
This slideshow requires JavaScript.